Our Objectives
The core mission of IINS is to contribute to the basic understanding of the central nervous system function. With this endeavor in mind, we set as an associated objective to develop innovative approaches along our scientific projects and disseminate these through technology transfer. We also aim to contribute, whenever possible, to identify new therapeutic targets and develop new therapeutic strategies for neurological and psychiatric disorders. Currently studied pathologies include Alzheimer's and Huntington's diseases, epilepsy, intellectual disability and autism spectrum disorders. Altogether, we represent a unique assembly of expertise, from structural biology (Elegheert) to integrated physiology and behavior (Gambino, Humeau, Mulle,Roux, Takahashi), through cell biology and chemical biology (Choquet, Giannone, Groc, Perrais, Thoumine), and imaging (Nägerl, Sibarita, Studer), with relatively focused scientific interests around excitatory neurotransmission in the brain. This unique combination of joint scientific interests with strong diversity of approaches allows for IINS to be a highly integrated and collaborative environment.
IINS unites researchers with diverse areas of expertise, and creates a highly synergistic environment to promote:
The development of innovative methods and investigation tools, focusing on those based on molecular and structural biology, physiology, optics, chemistry, physics and computer science.
The application of these tools to push the boundaries of the study of molecular and physiological events underlying the activity of the brain. This includes studying the morpho-dynamic and functional properties of the nervous system to understand the complexity of its molecular assemblies and functions at an integrated level.
In addition, IINS is the support research unit for the Bordeaux Imaging Center, a core facility of service, training and R&D in cellular imaging of international stature to permit the transfer to the scientific community and industry of the imaging tools developed in IINS.
The specific scientific objectives of IINS are to:
Identify, study and develop tools to control the biochemical, structural and dynamic properties of molecular complexes involved in synapses, cell contacts or adhesion sites at a nanometric scale.
Understand the basic mechanisms underlying the establishment and function of synaptic transmission in the nervous system in normal and pathological conditions.
Integrate this knowledge to understand brain adaptive functions at the network and behavioral level.
Develop new investigation methods (structural and chemical biology, nano-imaging, in vivo imaging and physiology, bio-sensors).
Render these technological advances available to the community through core facilities and training activities and industrial technology transfer.
Train next generation of scientists.
Our History
The Interdisciplinary Institute for Neuroscience (IINS) has been created as a Research Center January 1st, 2011 and renewed in 2016, with the aim to gather scientists from multidisciplinary backgrounds and complementary expertise to answer important questions on brain function. It has since its creation been directed by Daniel Choquet. IINS takes its roots in the CNRS unit Cellular Physiology of the Synapse (UMR CNRS 5091 PCS), which was directed from 1999 to 2010 by Christophe Mulle. IINS was created initially with 8 groups (Sibarita, Thoumine, Choquet, Nägerl, Groc, Mulle, Humeau, Landry). Sibarita, Nägerl and Humeau came from Paris, Munich and Strasbourg, respectively, while the others were already in Bordeaux. The group of Giannone emerged internally and was created at the preceding renewal in 2016. A major step was accomplished in the fall of 2016 with the relocation of IINS to the newly built Centre Broca Nouvelle Aquitaine, thanks to the Neurocampus project promoted by the Region Aquitaine. IINS is entirely located on the first and second floor of the Centre Broca. Through a series of international calls, IINS attracted over 4 years 4 new team leaders (Gambino from Switzerland 2016, Roux from New-York 2017, Elegheert from Oxford 2018, Takahashi from Berlin 2019). In 2020, two teams emerged internally (Perrais from the choquet Group, Studer from the Sibarita group). Noticeably the Studer team is a Joint research Mab (JRL) with the company Alveole). The Landry team is terminated in 2020. Altogether, 14 teams, representing about 150 people are now part of IINS. In September 2019, Laurent Groc was nominated adjunct director in place of Marc Landry, former adjunct director since 2011. IINS is the support research unit to the Bordeaux Imaging Center core facility.
Organization
The current organizational chart of IINS is as follows (December 2019):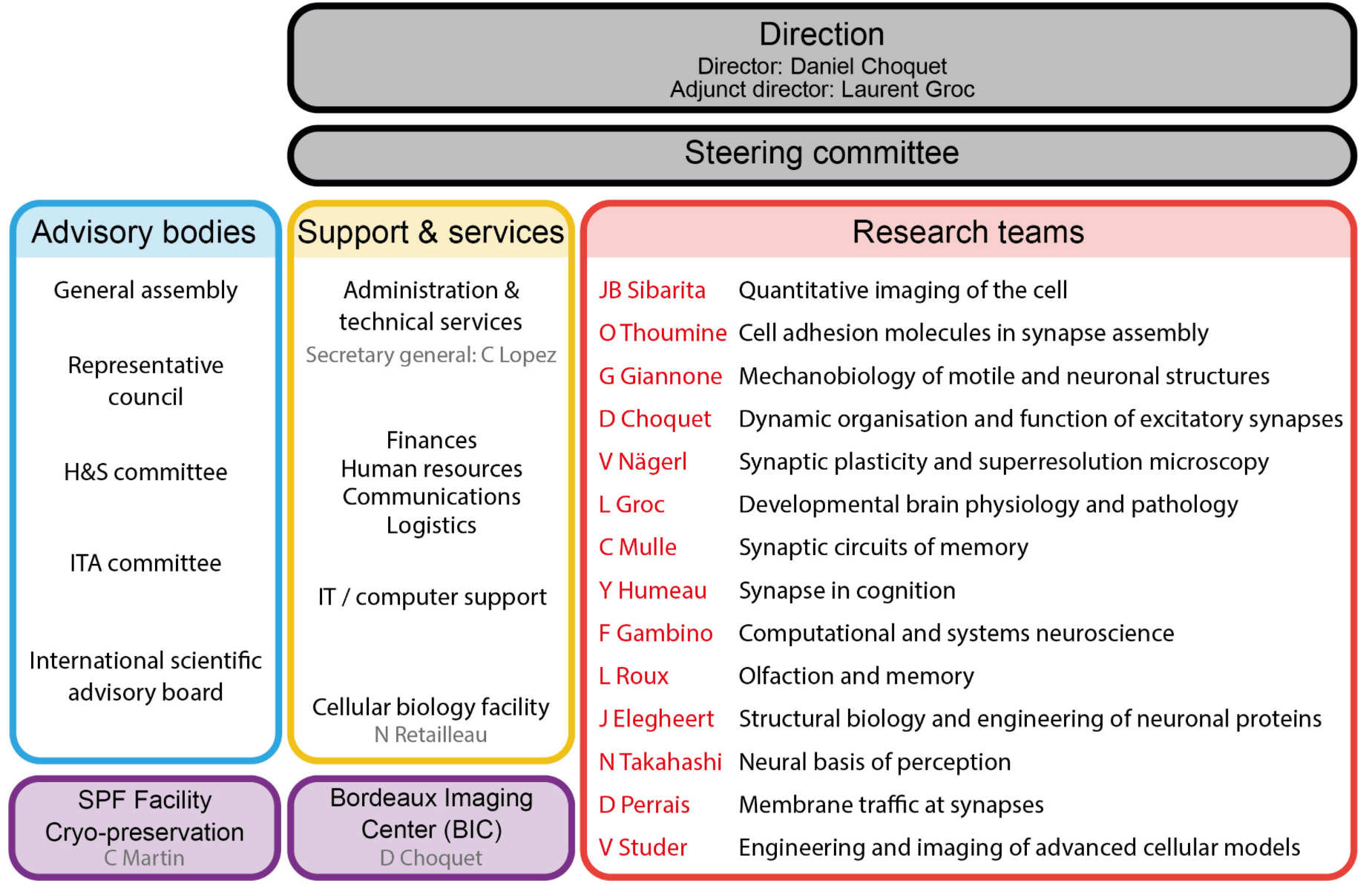 Our Administrative Services
Our administrative and technical support team is coordinated by our secretary general.
Coordination of logistic operations for IINS. This service is in charge of the intranet of the Institute, manages of the shared data server, and develops custom software tools. End users also receive specialized computer maintenance and support. The service oversees all aspects of missions and travels at IINS.
The service is in charge of communication and meeting organization at IINS Health and Safety Internal Committee The Health and Safety internal committee serves as a relay between the preventing officers and the different teams. One member of each team has been chosen as a member of this committee, which meets every 6 months (or more, if necessary).
- Budget and finances operations at IINS.
- Human Resources Human resources operations at IINS.
- Logistics
- Computer support
- Missions
- Communication
IINS within the Bordeaux Neurocampus
IINS is part of the newly created Bordeaux Neurocampus department of Bordeaux University that is home to around 650 neuroscientists. Bordeaux Neurocampus is organized around 6 research centers:
IINS teams have developed an extensive network of collaborations with the various centers, thanks in part to the incentive funding proposed by the Labex BRAIN for transversal projects.
BRAIN (Bordeaux Region Aquitaine Initiative for Neuroscience) has been an excellence cluster funded for 10 years (21.7 M€ - 2011-2020) that gathered all teams of Bordeaux Neurocampus around specific projects. It has been directed by Daniel Choquet. BRAIN has put a strong emphasis of supporting core facilities, supporting transversal scientific projects through competitive calls, supporting training through helping the creation of the Bordeaux School of Neuroscience and providing fellowships for PhD extensions.
Bordeaux Neurocampus and BRAIN joined forces to subsidize organization of workshops, symposiums and international meetings. Every year, over 5 international meetings are organized by the Bordeaux Neuroscience community.
BRAIN ends December 31st 2020, extended to June 2021 due to the COVID-19 crisis. Bordeaux Neurocampus teams applied for a renewal in a large center project BRAIN_2030 headed by Daniel Choquet.
The Bordeaux Neurocampus Department is also home to a number of core facilities which gather essential shared equipment and expertise and that considerably benefit IINS's scientists. These include:
The Bordeaux Imaging Center (BIC), part of the national infrastructure France-BioImaging (FBI), it-self part of the Euro-BioImaging European infrastructure launched in the fall of 2019. Daniel Choquet is head of the Bordeaux node of FBI, adjunct director of FBI in charge of European affairs and French representative at the EuBI ERIC board. The BIC is home to 16 engineers and hosts a wide variety of optical and electron microscopes. A large number of IINS's projects rely on close collaborations with the BIC and vice-versa, the BIC R&D and training activities relies heavily on partnerships with IINS teams.
The other key core facilities of Bordeaux Neurocampus are (listed here): Biochemistry and biophysics – Neurocentre Magendie ; Cellular biology – IINS; Microdissection – Neurocentre Magendie ; Vectorology – IMN ; Transcriptomic – Neurocentre Magendie ; Genotyping – Neurocentre Magendie; Optopath – Neurocentre Magendie;
In addition, Bordeaux Neurocampus is proud to be home to the Bordeaux School of Neuroscience (Chaired by Christophe Mulle), a unique neuroscience training center in Europe providing advanced "hands-on" courses open to the international community. It is the host of prestigious Cajal Advanced Training Courses http://cajal-training.org/ and a partner of the Bordeaux Neurocampus Graduate Program https://neurocampus-graduateprogram.u-bordeaux.fr/.